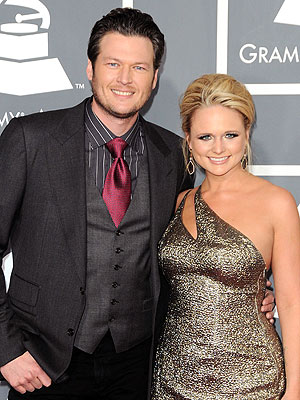 Kyle Rover/Startraks (People.com)
In Us Weekly, on newsstands now, Blake Shelton opens up about how Miranda Lambert helped save him from his wild and crazy partying ways.
"I was a single male country singer raising hell, going out after concerts to bars and drinking and doing whatever I wanted," Blake recalls. "And why the hell not? I wouldn't take it back, either."
Now that he's settled down with Miranda he jokes, "Man, I don't know where in the hell I got the energy! I'm getting old now, and my hair's going gray."
Blake credits Miranda for helping him "grow into a normal, adult routine" saying, "I grew tried of going out drinking until 7 a.m. and then waking up at noon and eating pizza. Now if I want to go drinking, I only want to sit at the house with Miranda watching 'Snapped' on TV at home."
"It's crazy because even if I'm just out on her bus while she's on the road or watching her do her shows, I'm 100 percent comfortable because she is there," Shelton adds. "She really is that rock for me and the center of all of this."
For more on Blake's exclusive interview with US Weekly, pick up the latest issue.
Inside, he opens up about how his 2006 divorce affected his new marriage, when they plan to start a family, and how Miranda learned to brush off rumors.