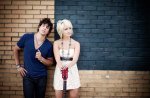 The Country Music Association 2011 Duo of the Year nominee and five-time Academy of Country Music Duo/Top Duo or Group nominees
are taking their two-part harmonies to Atlanta for the 7th inning stretch during June 28th's Arizona Diamondbacks/Braves game at Turner Field.
Eschewing the more expected "Take Me Out To the Ball Game" for the more patriotic "God Bless America," Meghan Linsey and partner Joshua Scott Jones are ready for a little baseball…
"The opportunities to do cool things because of the way the fans love our music never ceases to amaze me," says Linsey, the quirky bombshell who's a perfect cross between Gracie Allen and Marilyn Monroe. "Last week, we were able to pass out groceries at Second Harvest's mobile food pantry in a church that fed 1000 people, and this week, we get to go sing at a big baseball game."

"And it's cool, too, so close to the 4th of July to be able to sing 'God Bless America'," adds the more brooding Jones. "We are so fortunate to be living in this country… and Meg and I are especially blessed to be making music, to be able to make a difference last week and especially to be out there touring, realizing how much the fans love this music. I can't think of a better warm-up for a big holiday weekend!"
The game – and their performance – can be seen on the Major League Baseball Network as well as the regional Sports South Network, which broadcasts all the Braves games.
Steel Magnolia's "Keep On Loving You" became the highest debuting single for a male/female duo in Billboard chart history, rising into the Top 5. The high-energy pair followed with two more distinctive hits, the #24 "Last Night Again" and Top 30 "Just By Being You (Halo and Wings)." In addition to their three ACM Top Vocal Duo nomination, Meghan and Josh have received nominations for the ACM's Top New Vocal Duo in 2010 and 2011, the Country Music Association for Duo of the Year in 2011 and CMT: Country Music Television for Best Video by a New Duo in 2011 and been seen on "Late Night with David Letterman" and "The Jimmy Kimmel Show."